Timer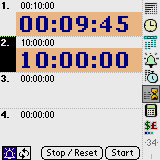 About

- Timer form has four part. Every represent one Timer.
- Every timer has:
- Select part where timer number is.
- Set part where timer is.
- At the top of every timer is Duration display.
- And big current timer.
- At a bottom of form there are commands and switches for Timers.
- Tap on left part of Timer to select active editing timer.
- Tap on upper and lower part of timer digits to set timer. Timer has not been set (change) if he is already started.

How to use

- Press Start to start timer.
- Press Stop/Reset to stop timer. If timer already stopped this will reset timer.
- Every Timer has to parameter: Beep and Repeat representing with to small push button at left down part of form.

Tips

- Every time user tap on meaning part of screen, this part of screen are invert. This is useful in dark environment. User can disable this options from Setup: uncheck "Invert Screen On Tap"