About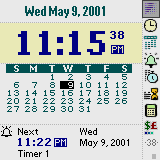 xTIME try go give user a few aspect of using time.
You can easy manage a time events with Alarms and Timers.
Measure a time by Stopwatch and even a race from any hobby.
You can calculate a time by Time Calculator.
View current time in a big digital and analog clock, find which date will be at..
Watch World time in more than 350 city all over the world.
...