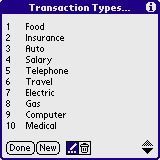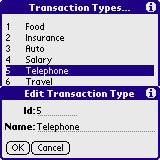 Transaction types
Every transaction in xMONEY program must have his type.
Program allow user to edit his own types of transaction, he should do this before he enter new transaction.
Every transaction has his own Id number and Name. Id number is very important to xMONEY program, because he link every transaction with this number.
WARNING
User should be very careful when editing this transaction id, because if user already has money transaction with some type, and if id of that transaction type is changed program could not properly link this and it will display "???" in main form list.