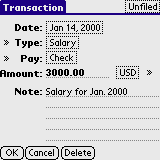 Transaction
xMONEY offer simple transaction entry form. Every money transaction has: Date of transaction, Type of transaction, Type of Payment, Amount, Type of currency and note.
Every transaction also have a link to account.
Fields on Transaction form are:
Date - User can pick a date of transaction.
Type - Transaction type.
Pay - Payment type.
Amount - Positive or negative amount of transaction
Currency - Type of currency for transaction
Note.
Tip
Press ">>" near Type to edit base of transaction types.
Press ">>" near pay to edit base of payment types
Press ">>" near Currency to edit Currency base