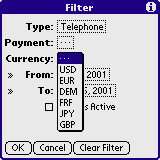 Set Filter
xMONEY offer setting a Custom filter for money transaction.
Setting Filter from offer all field to made filter condition. This fields are:
Transaction Type, Payment Type, Currency and Date period (From date to Date)
All or part of this fields could be in filter condition.
Filter also should be activated
Tip
Press "Clear Filter" to clear all filter conditions.
Press ">>" near From/To to clear date condition.
Empty filter conditions are marked with "...". To clear Type, Payment, Currency tap on it and selec "..."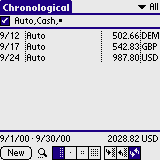 Display Filter
After filter is Set and activate, xMONEY recalculate current balance and display only transaction witch are in filter condition.
Filter is displayed in two part on main form.
At the top of main form filter is displayed as: Transaction Type, Payment Type, Currency.
At bottom of main form second part of filter is displayed: From date, To date.
Tip
Use small check box in top filter line to Activate / Deactivate filter. This action do the same as Active check box on Set Filter form.
In View mode (By Month, By Quarter, By Year). Taping on any group transaction line create automatically filter for that period.