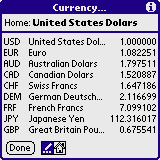 Currency
xMONEY has ten world currency. The relation between currency are set on date of program creation and should be changed by user.
Every Currency has:
Code - Three character length Currency identification.
Name - Name of Currency
Rate - Current rate for that currency.
Main currency form display: Home currency, list of currency and editing buttons.
"Done" return to previous form, "Edit" radio button means that we are in edit mode and "Home" radio button means that we are in Setting Home currency mode.
Home currency rate is 1(one). When user change home currency, program automatically change rate of all other currency.
setting a Custom filter for money transaction.